Overview
Duration: 2 hours (intermission after the second act)
Comic opera in two acts
Libretto: Cesare Sterbini
First performance: Rome, February 20, 1816
Italian with explanations in English, French, Spanish
Dates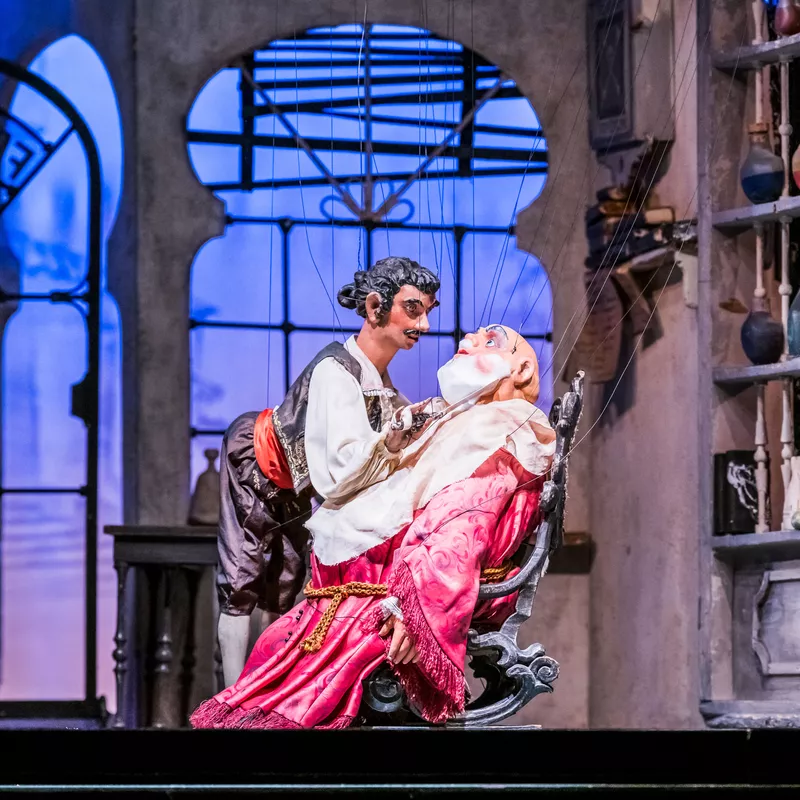 Abstract
Figaro the barber is helping Count Almaviva to win the heart of the pretty Rosina. But she is closely watched over by her guardian, the elderly Doctor Bartolo, who is himself planning to marry her as soon as possible, aided by the sinister Don Basilio. Figaro has a few ideas for frustrating Bartolo's plans, so Almaviva assumes various disguises in order to gain entrance to Bartolo's house. Love letters are exchanged; in the end, love triumphs, and the suitor, at last revealed as Count Almaviva, is able to marry his Rosina.
Cast
Production: Wolf-Dieter Ludwig
New production 2014: Philippe Brunner
Set design: Günther Schneider-Siemssen
Costumes: Marie-Luise Walek
Light: Philippe Brunner / Alexander Proschek
Puppet's heads: Joseph Magnus
Technician: Alexander Proschek
---
Puppeteers: Philippe Brunner, Anne-Lise Droin, Pierre Droin, Vladimir Fediakov, Marion Mayer, Michaela Obermayr, Emanuel Paulus, Eva Wiener, Ursula Winzer
---
Singers: Manuel Ausensi, Ugo Benelli, Teresa Berganza, Fernando Corena, Nicolai Ghiaurov, Stefania Malagù, Dino Mantovani
Additional
information
Orchestra e coro Rossini di Napoli
Conductor: Silvio Varviso
Recording: Decca 1967
Premiere: Salzburg, July 11, 1971
New production: June 6, 2014
The puppets and the equipment were made in the workshops of the Salzburg Marionette Theatre.