Overview
Duration: 2 hours 10 minutes (intermission after the first act)
Opera in two acts
Text: Emanuel Schikaneder
First performance: Vienna, September 30, 1791
German with explanations in English, French, Spanish, Chinese
Dates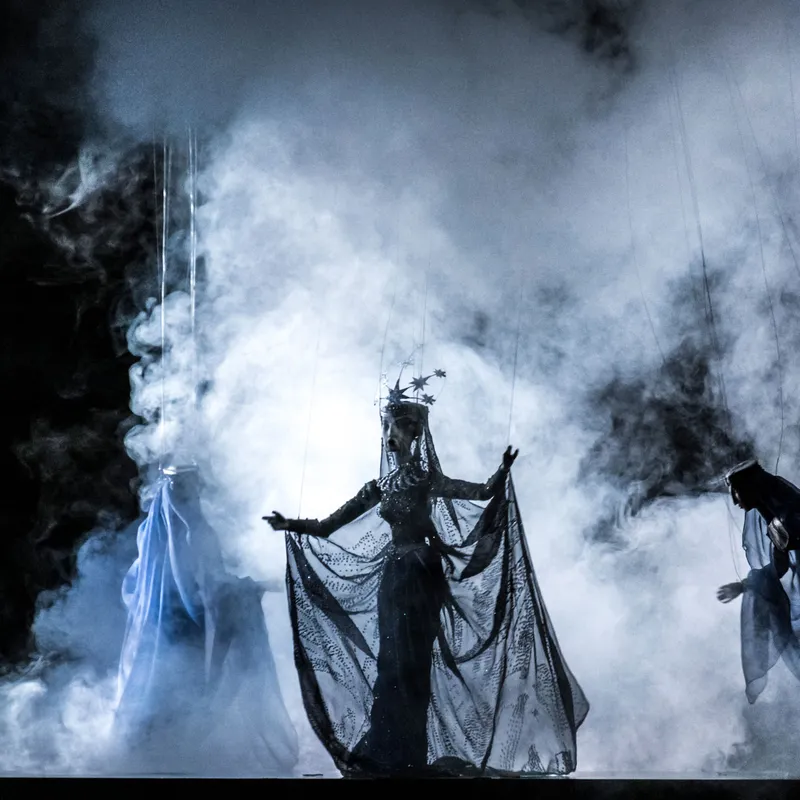 Abstract
The Queen of the Night has begged Prince Tamino to free her daughter Pamina from the clutches of the High Priest Sarastro, who has abducted her. Together with the bird-catcher Papageno, Tamino enters Sarastro's realm to seek her. When he finds her, the two fall in love, but they have to have to undergo ordeals before they can be together. At the end, Papageno is also rewarded with his Papagena.
Cast
Production: Thomas Reichert
Set design: Günther Schneider-Siemssen
Light: Philippe Brunner / Alexander Proschek
Costumes: Friedl Aicher
Sculptor: Joseph Magnus
Technician: Alexander Proschek
---
Puppeteers: Philippe Brunner, Anne-Lise Droin, Vladimir Fediakov, Marion Mayer, Emanuel Paulus, Eva Wiener, Ursula Winzer
---
Singers: Kim Borg, Diana Eustrati, Dietrich Fischer-Dieskau, Ernst Häfliger, Josef Greindl, Margot Guillaume, Margarete Klose, Liselotte Losch, Lisa Otto, Maria Reith, Marianne Schech, Maria Stader, Rita Streich, Howard Vandenburg, Martin Vantin
---
Speakers: Friedl Aicher, Eva Arier, Karl Blühm, Bert Oberdorfer, Hannelore Palm, Herbert Propst, Géza Rech, Herta Weber, Franz Wyzner
Additional
information
RIAS-Kammerchor
Berliner Motettenchor
RIAS-Sinfonie-Orchester Berlin
Conductor: Ferenc Fricsay
Historical recording: Deutsche Grammophon 1955
Premiere: Boston, October 8, 1952
New productions: 1960 and 2015
The puppets and the equipment were made in the workshops of the Salzburg Marionette Theatre.