Overview
Duration: 2 hours
Opera in two acts op. 72
Libretto: Joseph Sonnleitner, Georg Friedrich Treitschke
Text of the new production: Thomas Reichert
First performance of the third version: Vienna, May 23, 1814
German with explanations in English
Dates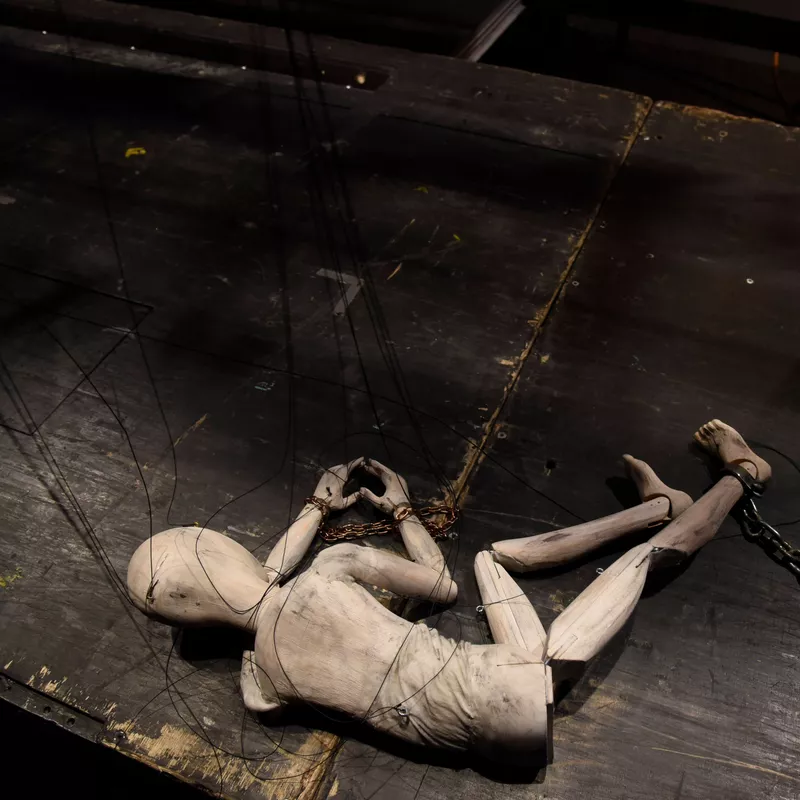 Abstract
Florestan has disappeared, assumed dead. His wife, Leonore, suspects that he has been unjustly imprisoned by his corrupt adversary Don Pizarro, governor of the prison, as he was about to expose Pizarro's machinations. Determined to rescue her husband, Leonore, disguised as the youth Fidelio, has entered the service of the jailer Rocco ...
Cast
Concept and Direction: Thomas Reichert
Set Design: Michael Simon / Thomas Reichert
Marionette Head Design: Alfred Kleinheinz
Costumes: Kerstin Grießhaber
Musical Arrangement: Thomas Reichert / Philippe Brunner / Matthias Thurow
Light: Thomas Reichert / Alexander Proschek
Puppet's Heads: Vladimir Fediakov
---
Puppeteers: Philippe Brunner, Anne-Lise Droin, Vladimir Fediakov, Edouard Funck, Max Kiener, Marion Mayer, Emanuel Paulus, Eva Wiener, Ursula Winzer
Singers: Kieth Engen, Dietrich Fischer-Dieskau, Gottlob Frick, Ernst Haefliger, Friedrich Lenz, Leonie Rysanek, Irmgard Seefried
Speakers: Pauline Fusban, André Jung, Juliane Köhler, Jan-Gregor Kremp, Johannes Meister, Stefan Wilkening
Additional
information
Chor der Bayerischen Staatsoper
Bayerisches Staatsorchester
Conductor: Ferenc Fricsay
Historical recording: Deutsche Grammophon 1957
The dialogues were recorded in November 2018.
Premiere: Bonn, September 15, 2019
The puppets and the equipment were made in the workshops of the Salzburg Marionette Theatre.