Overview
Duration: 2 hours (intermission after the second act)
Opera in three acts
Text: Adelheid Wette
First performance: Weimar, December 23, 1893
German with explanations in different languages
Dates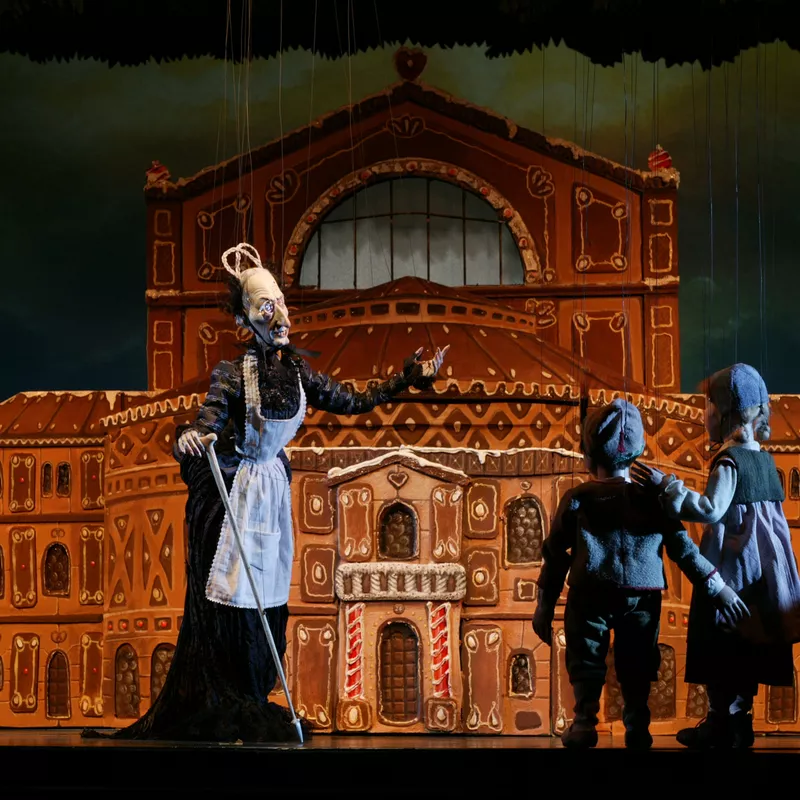 Abstract
Engelbert Humperdinck's Hansel and Gretel, with its music alternating between full orchestral power and simple, folk-like melody, is a classic in the opera repertoire. The story of the two siblings who fall into the clutches of the "gingerbread witch" Rosina Leckermaul captivates audiences of all ages in this magical Marionette Theatre staging.
Cast
Directed and designed by: Hinrich Horstkotte
Puppet carving: Pierre Monnerat
Technics: Alexander Proschek
---
Puppeteers: Philippe Brunner, Pierre Droin, Vladimir Fediakov, Heide Hölzl, Michaela Obermayr, Emanuel Paulus, Eva Wiener, Ursula Winzer
Singers: Annette Dasch, Jörg Gottschick, Martina Hamberg-Möbius, Akiko Hayashida, Bini Lee, Kristina Naudé, Giedré Povilaityté
Additional
information
Inboccallupo-Kinderchor
Inboccallupo-Orchester
Conductor: Andreas Schüller
Recording for the Salzburg Marionette Theatre
Premiere: December 12, 2003
The puppets and the equipment were made in the workshops of the Salzburg Marionette Theatre.