Overview
Duration: 2 hours (intermission after the second act)
Opéra fantastique in three acts
Libretto: Jules Barbier
First performance: Paris, February 10, 1881
In French with explanations in German, English, French, Italian
Dates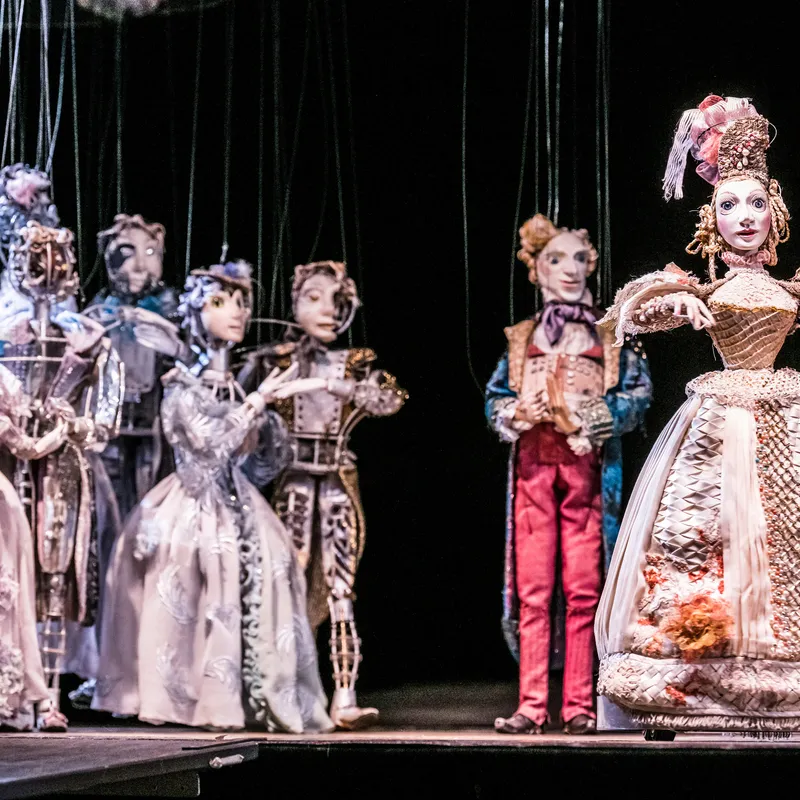 Abstract
In Luther's beer-cellar, lusty singing extols the virtues of beer and wine. For this evening, the Muse decides to deflect the poet Hoffmann's attention from amorous escapades, so that he will devote himself entirely to his art. Hoffmann tells of the three unhappy loves of his life: Olympia, Antonia and Giulietta.
Cast
Production: Wolf-Dieter Ludwig
New production 2019: Philippe Brunner
Set design: Günther Schneider-Siemssen
Light: Philippe Brunner/Alexander Proschek
Costumes: Bernd-Dieter Müller
Sculptor: Edmund Pointner
Technics: Alexander Proschek
---
Puppeteers: Philippe Brunner, Anne-Lise Droin, Pierre Droin, Vladimir Fediakov, Emanuel Paulus, Eva Wiener, Ursula Winzer
---
Singers: Gabriel Bacquier, Jacques Charon, Hugues Cuenod, Placido Domingo, Paul Guigue, Roland Jacques, Margerita Lilowa, André Neury, Paul Plishka, Pedro di Proenza, Joan Sutherland, Huguette Tourangeau
Additional
information
Choeur de la Radio Suisse Romande / Choeur Pro Arte de Lausanne / Choeur du Brassus
Orchestre de la Suisse Romande
Conductor: Richard Bonynge
Recording: Decca 1972
Premiere: Salzburg, May 24, 1985
New staging: Salzburg, April 13, 2019
The puppets and the equipment were made in the workshops of the Salzburg Marionette Theatre.