Overview
Duration: 1 hour 45 minutes (Intermission after the first act)
Music: Richard Rodgers (1902−1979)
Libretto: Oscar Hammerstein II (1895−1960)
Book: Howard Lindsay and Russell Crouse after "The Story of the Trapp Family Singers" by Maria von Trapp
First performance: New York, November 16, 1959
based on the Broadway Musical
In English with explanations in German, Italian, French, Spanish, Japanese
Dates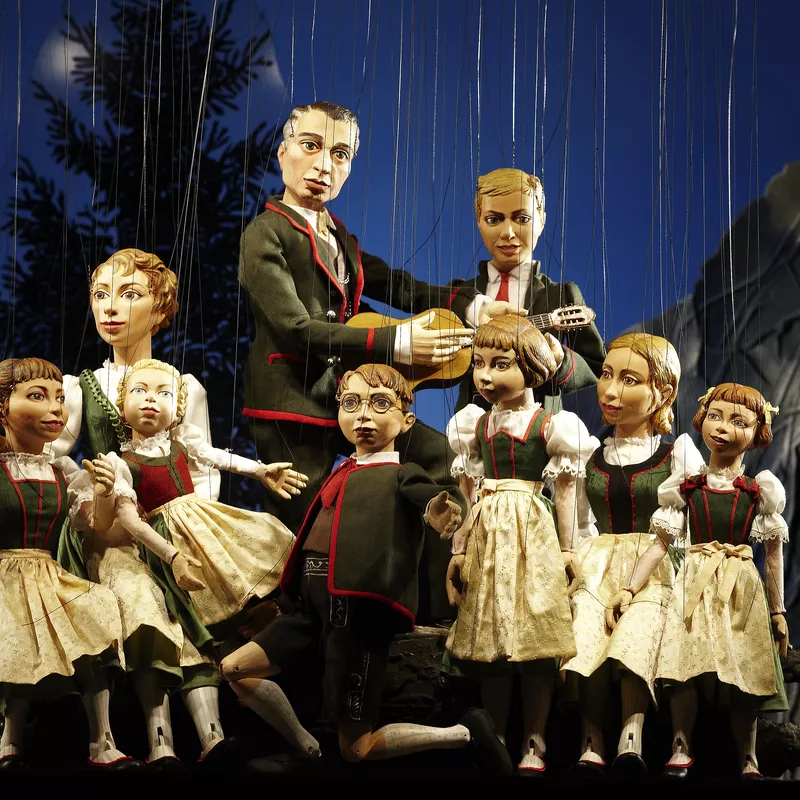 Abstract
Julie Andrews' box-office hit The Sound of Music has made billions of people familiar with the story of the Salzburg von Trapp family. This marionette stage version of the original Broadway musical, with its immortal melodies, holds enormous appeal for all ages.
Cast
Director: Richard Hamburger
Set Design: Chris Barreca
Costumes: Anita Yavich
Puppet's Heads: Pierre Monnerat
Sound Design: David Budries
Musical Director: David Rosenmeyer
Dramaturgy: Melissa Cooper
Technics: Alexander Proschek
---
Puppeteers: Philippe Brunner, Anne-Lise Droin, Pierre Droin, Vladimir Fediakov, Edouard Funck, Heide Hölzl, Max Kiener, Marion Mayer, Emanuel Paulus, Eva Wiener, Ursula Winzer
Singers/Speakers: Kelsey Fowler, Joy Franz, Jenn Gambatese, Kylie Goldstein, Matthew Gumley, Jonathan Groff, Betsy Hogg, Jeanne Lehman, Michael McCarty, Crista Moore, Christiane Noll, Martin Vidnovic, Jennifer Hope Wills, Bill Youmans
Additional
information
Istropolis Philharmonic Orchestra
Conductor: Larry Blank
Orchestration: Robert Russell Bennett
Choir Arrangements: Trude Rittmann
Special thanks to: Ted Chapin, Timothy Crouse, Bert Fink, Bruce Pomahac
More information about "The Sound of Music" and Musicals by Rodgers & Hammerstein at www.rnh.com
Performance by arrangement with Josef Weinberger Ltd., London for The Rodgers and Hammerstein Organization, New York.
Licensor for Austria: Josef Weinberger Wien GmbH
Premiere: Dallas, November 2, 2007
The puppets and the equipment were made in the workshops of the Salzburg Marionette Theatre.