Overview
Duration: 1 hour 35 minutes (intermission after the first act)
Two-act ballet adapted from E. T. A. Hoffmann's tale "The Nutcracker and the Mouse King"
First Performance: Saint Petersburg, December 18, 1892
Summary in German and English
Dates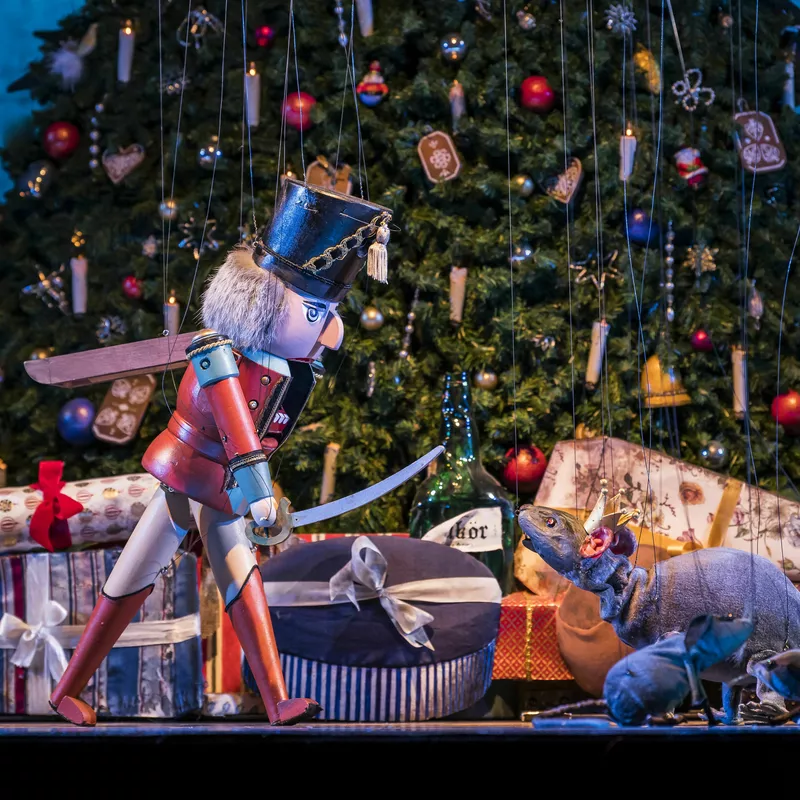 Abstract
On Christmas Eve, Clara's eccentric Uncle Drosselmeier gives her a nutcracker. In her dream it is turned into a prince, who takes her on a fantastic journey to the land of the Sugar-Plum Fairy.
Cast
Production: 1978: Klaus Gmeiner, 2017: Philippe Brunner / Michaela Obermayr / Johannes Stepanek
Choreographie: 1978: Leonard Salaz / Sylvia Wenschau, 2017: Johannes Stepanek
Stage setting: Günther Schneider-Siemssen
Costumes: Marie Luise Walek
Sculptor: Josef Magnus
Light: Alexander Proschek / Philippe Brunner
Sound: Alexander Proschek
Puppeteers: Philippe Brunner, Anne-Lise Droin, Pierre Droin, Vladimir Fediakov, Edouard Funck, Max Kiener, Marion Mayer, Emanuel Paulus, Eva Wiener, Ursula Winzer
Additional
information
Orchestre de la Suisse Romande

Conductor: Ernest Ansermet
Recording: Decca 1958
Premiere: 1978
New staging: December 26, 2017
The puppets and the equipment were made in the workshops of the Salzburg Marionette Theatre.