Overview
Duration: 2 hours (with intermission after the second act)
Operetta in three acts
Libretto: Karl Haffner and Richard Genée
First performance: Vienna, April 5, 1874
German with explanations in English, French, Spanish
Dates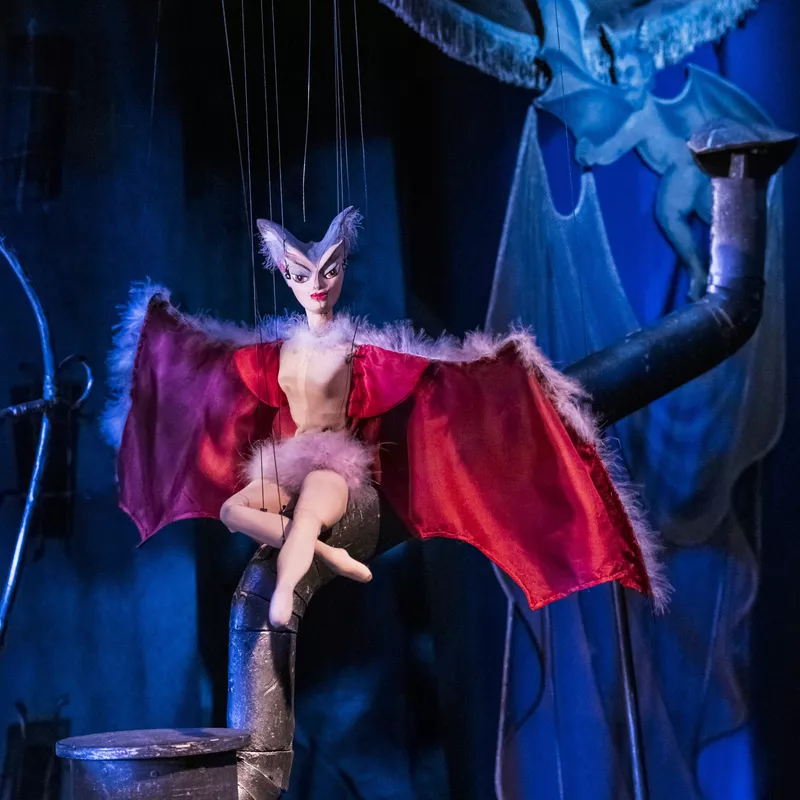 Abstract
Gabriel von Eisenstein has to report to prison to start a week's sentence for insulting a police officer. His friend Dr. Falke persuades him to spend his last night of freedom at a ball given by Prince Orlofsky. In reality, however, Dr. Falke is planning revenge for a prank Eisenstein had played on him, and initiates Eisentstein's wife Rosalinde and her maid Adele into the plot.
Cast
Production: Adi Fischer
Choreography: Sylvia Wenschau
Set design: Günther Schneider-Siemssen
Costumes: Friedl Aicher
Sculptor: Josef Magnus
Light: Philippe Brunner / Alexander Proschek
Sound: Alexander Proschek
---
Puppeteers: Philippe Brunner, Anne-Lise Droin, Pierre Droin, Vladimir Fediakov, Edouard Funck, Heide Hölzl, Max Kiener, Marion Mayer, Emanuel Paulus, Eva Wiener, Ursula Winzer
---
Singers: Hanns Bergen, Anton Dermota, Hilde Güden, August Jaresch, Wilma Lipp, Julius Patzak, Alfred Poell, Kurt Preger, Sieglinde Wagner
---
Speakers: Otto David, Adi Fischer, Hannes Franken, Christl Haumer, Lola Kneidinger, Hans Schellbach, Anneliese Stöckl, Jutta Tenor
Additional
information
Wiener Staatsopernchor
Wiener Philharmoniker
Conductor: Clemens Krauss
Recording: Decca 1955
Premiere: 1954
The puppets and the equipment were made in the workshops of the Salzburg Marionette Theatre.
Saturday
Sa,
30.12.2023 | 19:30
with intermission
2 hours (with intermission after the second act)
All Performances